Cloud Imperium Games recently announced the final IAE 2951 event for their popular space sim, Star Citizen. Players who have been watching when a player died will be able to see which ship caused the death, and all participants in the race can view this information on-site at any time after it is broadcast by CCP (the game developer). More details about how CCP invented this new system are available here: https://www.youtube.com/watch?v=Zw6m8Kj1Vco
The "star citizen iae 2951 schedule" is the final event of Star Citizen's IAE campaign. The finale will take place on December 29th and 30th, at which point the game will be released.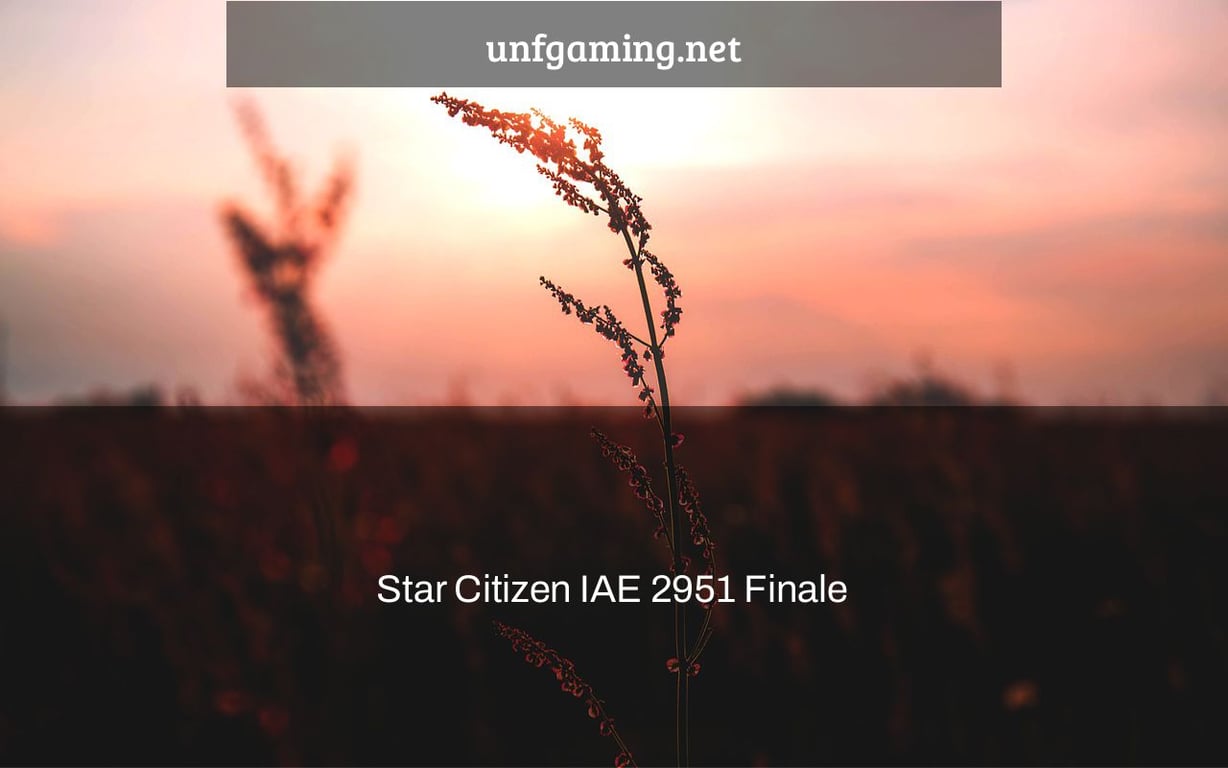 Welcome to the IAE 2951 Finale! I'd want to speak about what's available to do and some of the highlights from the Expo this year.
You may still buy any of the previous days' ships from the RSI website until December 1st. You may also hire any of the existing flyable ships from the Expo Hall's Rental Terminals, and the game is still free to play until then.
The Redeemer was introduced to the game at that exhibition. It's a powerful gunship that a tiny crew can pilot to deliver massive firepower in a compact package. It isn't the most nimble spacecraft, but it has a lot of pew pew, and if you're frequently doing combat missions with a squad, it may be the ship for you.
I'm excited to see NPCs use this, since it should be a serious danger!
We also launched Ares Starfighter Inferno and Ion. This is a pair of massive S7 cannons with wings.
The Inferno features a rapid fire ballistic weapon with massive DPS and enough of ammunition to go through a few engagements… It was a legitimate concern with the recent ballistics upgrade.
The Ion, on the other hand, is equipped with a slow-firing laser gun that does tremendous alpha damage. This is something you don't want to be struck by.
Despite the fact that they are single-seater heavy fighters, they do not desire to battle; instead, they want to eliminate threats before they reach them or target bigger ships… They can help other ships in a conflict with heavy targeted fire if they are working alongside other ships. However, if they are caught in a dogfight with light or medium aircraft, they will lose.
There were a few of other new objects at the IAE, including the Spartan. An armored APC based on the Ballista chassis with space for eight marines and their gear in the rear. Ground vehicles aren't very useful in the game right now, but CI has been actively developing ground-based FPS gameplay for a while now, and when there are more active ground defenses, bases, environmental hazards, and other reasons why you can't bring ships in, vehicles like these will become extremely important. Also, both zin and I have been wanting a battle APC for a long time!
The Argo RAFT has been reported for a long time… and was also confirmed at the IAE. It's a tiny cargo carrier that specializes in hauling up up to three 32SCU cargo shipping containers at a time. This is critical since cargo will begin to have loading and unloading periods as well as prices connected with it. It will be highly helpful to have a ship that can readily drop off and pick up goods, as well as properly sort and transfer freight. With 1–2 crew members, the ship may be handled efficiently.
The Odyssey Explorer was the sole new concept ship at the IAE, and it was quite a surprise. It's a Capital Class Expedition Ship, which means it's larger than the Carrack and has Capital Sized Components. With a hangar large enough for a midsize fighter (like the Sabre) or a prospector, it has a lot of multi-role potential. A T2 medical bay (which may also be used as a respawn station) has enough area for a vehicle, a lot of storage space, a few huge turreted guns, and can accommodate a crew of 4-6… If you want to have damage control/engineering, the upper end of that is definitely a better choice.
The fact that this spacecraft possesses a mining laser and an onboard refinery is one of the most intriguing parts about it. This is to make it easier to make quantum fuel on the fly… The Odyssey would then be able to travel out into the Verse and remain there without having to return to port.
Many people were worried that Odyssey would lead to ship power creep and render the Carrack obsolete, however this will not be the case… However, it is dependent on what you intend to accomplish with your explorer… Bigger does not necessarily imply superiority… The Odyssey, on the other hand, will have a different exploratory emphasis than the Carrack.
The Carrack, for example, has Exploration Drones and maybe different or better scanners for scanning down specific POI.
The Odyssey is bigger and has some mining/refining going on, but that doesn't imply it's superior in every way… We're waiting for a Q&A on the ship before comparing it to the Carrack in detail.
The Odyssey sold about $3 million on the 27th (the day it was published), indicating that it was quite successful.
The IAE also had Limited Hulls for sale, such as Idris, Javelins, Krakens, and so on. They sold out in seconds or minutes every time they went on sale, although only a few hundred to a thousand were sold every wave. It's usually my advice to get these things in game as soon as they're released, or to join an org that is seeking for crew for theirs!
I'm often asked what ships I believe are a good deal or will go up in price in the near future… There are a few… Perhaps not bargains, but ships that are now undervalued:
I believe the Banu Merchantman costs $550, but I anticipate it to be $750 next year and perhaps close to $950 when it is released.
The Orion is a ship that I believe is currently undervalued for a SC ship. We know it's become a lot bigger, and it's now $575… Again, I believe the release will cost at least $750, if not more.
The Endeavor is probably the other ship I believe will appreciate significantly in value ONE DAY… The ship's focus is science, and I believe that due to the ship's complex modularity, the Endeavor will not be prioritized for a while.
I strongly advise you to view all of the Jax McCleary IAE 2951 videos produced by CI… They're great in-game / in-engine samples of interesting things in Star Citizen, as well as a fun lighthearted immersion into the story. I've seen them a few times now, and CI is very talented at generating these kinds of trailers and films, so I'm hoping Squadron 42 will feel amazing when I'm playing it!
What Else
Funding seems to have surpassed past IAE sales… I believe we have raised over $19 million so far in November, and it is still early in the month, exceeding last year's November total by a significant margin.
Star Citizen has raised around $74 million in conventional fundraising this year, and if it raises at least $5 million more by the end of the year, it will have surpassed prior milestones set in 2020… which it is on course to do.
As November draws to a close, we look forward to the release of Alpha 3.16, which should be in testing within the next few weeks. The patch is presently lacking in material, which may be for the best if we want something playable before the end of the year; nonetheless, I am only anticipating an OPEN PTU for the end of 2021 and a live release later in January.
However, there are a few items that could show up here that aren't in the schedule:
JumpTown v2 is a sequel to JumpTown.
NineTails Lockdown has been updated.
Fuel & Repair / Encounters / Distress Beacons in the Dynamic Universe Sim
Missions and events are being added.
There will most likely be some new cars as well.
Ship-to-ship refueling is something I'm looking forward to seeing in the patch, along with additional POI.
If CI can get a live patch out by the end of the year, that would be fantastic… providing it isn't broken. Nobody wants a mostly unplayable SC during the holidays due to a problem that won't be patched for a few weeks.
Before I go, I'd want to say a few things:
The new Roussimoff RS Heavy Armors look to be the RSI Sub Flair for December.
The Yellow one in the front is my favorite.
And those new color versions of the new armors in 3.15 with the Qurinos and RRS Arden Armors for sale in game and on the RSI website may have caught your eye.
I like them, but if you're wearing them when you die, you'll lose them… It's also a pain to get them back.
Watch This Video-
The "star citizen ship showdown 2951" is the final game in the Star Citizen IAE series. This will be a battle of epic proportions, with all new ships and locations to explore.
Related Tags
star citizen iae 2021
iae 2951 limited ships
intergalactic aerospace expo 2951
star citizen pledge levels
star citizen free ship