In the past, melee was a simple proposition – swing your weapon in each direction and hope you hit something. But today's games have introduced new combat mechanics that require players to think about positioning and timing. With so many options for fighters, there is no reason not to take advantage of the freedom melee affords by setting up some sweet combos or unbounding yourself from Melee entirely.,
Punching out is a mechanic in the game of Call of Duty: Black Ops. The mechanic allows players to unbind their melee attack and use it as a primary weapon.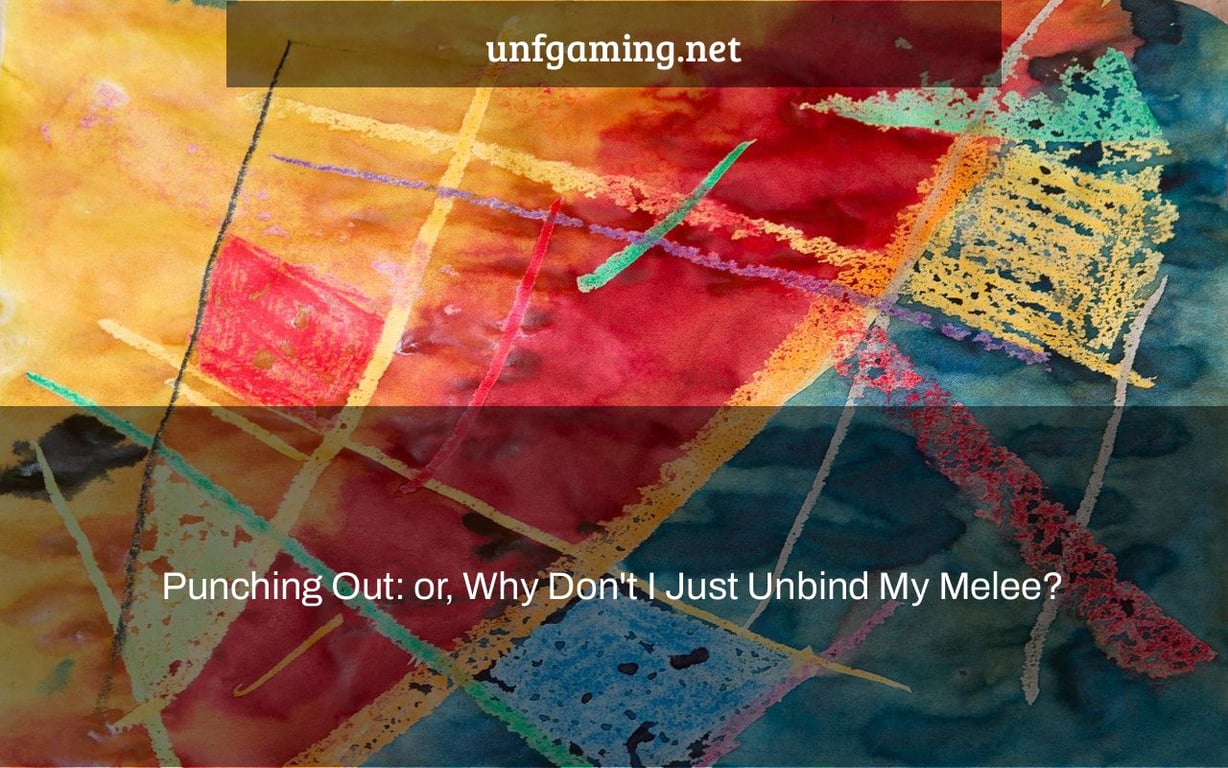 In Destiny, which is more powerful: a grenade or a melee?
Yes, I am aware of the answer to this question. If you've played Destiny for a while, you're undoubtedly aware of the answer to this question. You may probably predict the answer to this question if you've played any shooters that aren't DOOM or Titanfall 2. But stay with me for a while, because I'm going to speak about what Destiny believes is stronger, and why it can't seem to decide.
We'll start with some very basic, very evident principles of Destiny's design. Really, game design in general. Rarer occurrences should result in more powerful perks, whereas more frequent events should result in weaker perks. Because precision kills are clearly uncommon than ordinary kills, Feeding Frenzy must be layered numerous times to get the same reload speed boost as Outlaw. Because being in fight needs no effort on your part, Frenzy delivers a 15% bonus, but One for All does 35 percent damage because it forces you to tap several targets in rapid succession.
More powerful abilities should have a longer cooldown. This isn't just me speculating; Bungie explicitly said that this was the purpose for having ability cooldowns non-universal in the first place.
This is a TWAB. Another good illustration of this theory in action is the difference in cooldowns between Stasis and Light abilities.
Many perks are usefully comparable to grenades and melees, providing us with some very helpful data points to compare them in each of these areas.
Reload: Demolitionist vs. Grave Robber
When engaged, both perks provide full reloads, although their triggering circumstances are different. Grave Robber has a more stringent need of a melee kill, while Demolitionist is merely concerned with consuming a grenade charge. (It works with Devour, Bleak Watcher, Divine Protection, etc.)
Demolitionist returns a significant amount of grenade energy almost anywhere it can be found: 10% on main kills and 20% on special kills. (It yields 10% every power kill, which may seem insufficient, but it isn't subject to the same multikill limitation as, say, tube launchers with Demolitionist.) It's a long tale.) Grave Robber, of course, does not regenerate abilities.
Demolitionist increases the DPS of rockets and other single-shot weapons by a ridiculous amount, which is also immensely useful in setups like Starfire Protocol. It's so powerful that Bungie had to give it a major nerf in the form of a 3-second lockout, although it's still quite useful for burst damage. At the time of writing, Grave Robber only uses drum launchers and a single machine gun, therefore attempting to utilize it in DPS stages is almost impossible. It may not have an internal cooldown, but at higher levels of gaming, it becomes increasingly more difficult to utilize.
Damage: Adrenaline Junkie vs. Swashbuckler
After Junkie's update in the 30th Anniversary patch, both perks grant equivalent damage boosts per stack, last for an identical duration, and both instantly max out on a kill with their respective skills.
Grenades stay significantly longer than melee abilities and may score several kills over time, particularly with perks like Lockdown on bottomtree Nightstalker, Chaos Accelerant on toptree Voidwalker, and Magnitude on toptree Striker. In general, Adrenaline Junkie spends considerably more time with the damage buff than Swashbuckler.
Demolitionist + Adrenaline Junkie is a super-synergistic combination that enables you to loop a damage bonus as well as abilities indefinitely. Grave Robber + Swashbuckler provides no ability energy refund; Wellspring + Swashbuckler has never been a perk combo and in the best case scenario only provides 3/4 of the ability energy that Demolitionist provides; Wellspring + Grave Robber provides no damage boost.
Weapons, Armor, and Perks Regenerate
Demolitionist is focused only to grenades and delivers at least 10% on kill, while Wellspring provides at most 7.5 percent melee energy on kill provided you have no other uncharged skills. Furthermore, if you have two charges of a melee ability, Wellspring will not appropriately provide ability energy. This affront has never been forgotten by the Revenants.
Monte Carlo is the game's only weapon with a perk devoted only to giving melee energy. It's a great source of energy, but it's also an exotic primary in one of the archetypes with the least amount of endgame material. Demolitionist, on the other hand, has access to several of the game's finest legendaries, including Salvager's Salvo, probably the most powerful ritual weapon ever produced.
Stasis grenades, which are possibly the most potent non-Super powers in the game, operate with Firepower. It's been at least a year since neither part of Heavy Handed (Heavy Handed or Lock and Load) works with Stasis subclasses.
Every class has a good supply of exotics that regenerate grenades. I'll recommend the Aeons' Sect of Force mod, which offers regen to all abilities when a Champion is stunned or a monster is killed. Hunters and Titans each have five class-specific grenade regen exotics, whereas Warlocks, naturally, have eleven. Hunters get 4, Warlocks 5, while Titans scrape by with 6, for melee regenerating exotics. Of the 15 exotics that enhance melee cooldowns, 8 also grant grenade regeneration. (See here for a complete list of all the exotics I'm counting and their justifications.)
Stasis shards provide melee regeneration, but you can't generate them without having to use the Stasis subclass.
Although grenades have a longer cooldown than melee abilities, stat modifications for both are the same price.
These comparisons show that although grenades have usually bigger impacts than melees, grenade builds also have much higher uptime than melee builds.
Clearly, something isn't right here! We're going against both of Bungie's known game design philosophies, which makes no sense at all. There has to be some hidden aspect here that we're overlooking: anything that would make melee have a covertly greater uptime than grenades, without requiring any type of build or investment, something like…
Oh.
Why Melee Without Power Isn't An Excuse
One thing I want to make clear right at the outset of this section is that Bungie uses trickle-down balancing, which is the idea that a sandbox whose tools are balanced at the highest end of content will also be balanced at the lowest.
We'd be living in a very different world if Bungie based the PvE sandbox only on the strike playlist and other activities of that level. Because the toughest CC you can apply to an adversary is death, and you're considerably more successful in lower-end content just throwing more deadly abilities with quicker cooldowns, Stasis would be considered F-tier. Frenzy would need to be massively boosted, since who cares about a 15% benefit when Kill Clip triggers in a twelfth of the time and boosts damage by roughly threefold? These kinds of decisions only make sense in the context of endgame operations, when crowd management is king and you don't have the luxury of reload mods or scooping up kills in a single mag.
In light of this, playing unpowered melee in the late game is essentially suicide. This is because if you hit a GM redbar, they barely stumble, but if a GM redbar strikes you, you're at red health and may as well be flying to the Moon. You're probably already dead if you're in a scenario where you can even employ unpowered melee. And how frequently do you suppose a deadly punch occurs when punching should be a once-in-a-million event? When you consider the sheer volume of incoming fire and how hard it impacts, you can see how significantly melee is harmed.
Then maybe your second criticism is that high-end gaming is just supposed to be done at a distance. Never mind that this would imply that Bungie has essentially built up a number of classes as newbie traps, or that melee-centric classes have just received a sweeping wave of buffs: Luke Smith, may his name be sanctified, simply declared that melee builds should never be viable, and that was the end of it. Assume the winning stance and accept your impending death with dignity if a redbar reaches within twenty meters.
Perhaps you believe that unpowered melee is wonderful, rendering CQC weaponry completely worthless, since an IKELOS SMG with a zoom greater than the Webb Space Telescope plainly has less range than your fists. Even though Defender and Warrior—both obviously melee-centric characters—have charged melees that are very similar to their uncharged counterparts, maybe you believe that unpowered melee being excellent will make melee-focused classes inferior.
All of these solutions come down to the same thing: uncharged melee should only be utilized to dispatch low-health foes that approach you from behind. To react, allow me to expose you to something that has been lurking behind your radar the whole while.
Melee's True "Unpowered" Form
Finishers are the real instrument for finishing off low-health adversaries that are dangerously near.
It's almost as though it's written somewhere in the name.
Finishers were not included as a standard feature in Destiny 2. They debuted three years after the game's first release, in Shadowkeep. With the amount of support they've received—mods like Spoils of War and Overcharge Wellmaker, as well as exotics like Assassin's Cowl and the Sect of Insight mod for Aeons—evident it's that Bungie has no regrets about including them in the game. They're not going anywhere.
They also have huge lunges, i-frames, and the class-agnostic ability to offer quick ability recharge or ammunition at the expense of Super, among other things. Even if they don't transform every Champion into a supply of heavy ammunition, even if they have no favorable riders linked to them, people still utilize them in higher-end content all the time. "But it's slower than unpowered melee!" "But it's slower than unpowered melee!" Okay, smartass, see what your TTK is by punching a finisherable target to death. Finishers take approximately a second on average, so don't bother if it's not quicker than that.
Simply said, even while preserving your distance is the best method to perform these activities, it isn't always practicable. Even the greatest teams need a close-range weapon to rapidly murder a rushing target, and finishers are both practical and effective. In fact, the fact that default finishers don't need any ammunition or resources is one of the reasons why smart players employ them: a shot saved from murdering a stunned Barrier Champion two feet in front of you is a shot you could push up Sepiks' structurally unnecessary spherical rear instead.
The idea that uncharged melee's only function is to finish low-health enemies at close range is completely debunked by the fact that we already have a tool that accomplishes the job significantly more effectively. We also have charged melee abilities that are similar to uncharged melee with the exception of an on-kill, as well as even more charged melee skills that can only be utilized in the same scenarios as uncharged melee.
Melee kills and use must be significantly more common than they are now in order for the benefits linked with them to catch up to those associated with grenades. However, this issue is exacerbated by a more serious one: in the great majority of high-end content, there is no practical niche for melee. Don't come at me with a '60% buff' this or a '20% boost in PvE' that, since this isn't a matter of numbers; it's a problem of core design, and many numbers-based remedies would effectively make melee weapons dominate over CQC weaponry.
So, what are our options for resolving this?
A Simple Proposal
Here's what I'd like to propose:
Melee damage that brings a fighter below the finisher threshold kills them instantaneously. Unfinishable targets, such as bosses, are unaffected by this modification. This effect should also be triggered by'secondary' melee damage, such as the burn from Knife Trick, the shatter damage from Howl of the Storm crystals, and the poison from Necrotic Grips.
This concept basically gives every melee a damage increase that scales into endgame since it is concerned with the percentage of health rather than the flat amounts of melee damage. You already onepunch most ads in low-end material, thus this contributes nothing to imbalance that side of the sandbox. Giving every melee the same lethality as finishers on higher difficulties, on the other hand, enables melee builds to cease focusing on raw damage output as the single determining aspect of a build's viability.
This is especially beneficial to the aforementioned 'almost-unpowered' melees, as it only benefits you on kills. Way of the Warrior is an immensely ferocious subclass capable of cranking out above-sword DPS figures with special ammunition while being almost unkillable in activities like Gambit. Boosting its numbers any further would almost certainly have a negative impact on most activities.
In GMs, however, the key gimmick of the class—stacking Combination Blow—is exceedingly tough to get going due to how weak basic melee damage is in comparison to how hard adds can punch you. Instead of softening up a redbar to finisher range, you may now just soften up a redbar to finisher range, which is a far more lenient activation requirement.
It's still not going to be the best tactic for the vast bulk of the game's material. I've previously discussed the structural reasons why melee will always be a high-risk choice in endgame material, and until those factors change, melee will continue to be a worse option for builds.
However, there are still arenas that require players to be much closer to the danger than usual—the warehouse and final boss section of Devil's Lair, basically all of Fallen SABER after the introduction, the final boss of Exodus Crash, Oracles, Gatekeeper, Consecrated Mind, Taniks, Atraks, and Gahlran—and making melee more viable would allow Bungie to include more CQC encounters without fear of players being unable to handle them.
And this, I believe, is the most significant advantage that strengthening melee would bring: variation in endgame content playstyles. I don't mind plinking at majors with Ticuu's from halfway across the map, but it's difficult not to grow tired of it when it's nearly the only thing you can do in endgame. I believe that if Bungie were to make melee a viable (though high-risk, high-skill floor) playstyle capable of handling these situations, interest in high-end content would increase. It's also a playstyle that the great majority of individuals who are currently playing this stuff have never seen before. Imagine the number of new GM speedrun strats that would be available in this scenario, and tell me that wouldn't be a highly interesting change.
Here's a fast and dirty demonstration/TTK test of how this modification might work in reality, along with some comparisons to the current state of the game. Keep in mind that this is the most worst case scenario for these boosts, since Defensive Strike gives no advantage over standard melee until it kills.
However, this will take the place of finishers!
When you attempt to melee a target, you don't receive i-frames, a twenty-meter lunge, or loadout-agnostic access to a range of ridiculous ribbons like quick ability replenishment or special ammunition. Finishers will continue to be significant since they're still the best choice for builds that don't want to engage in melee combat, which is the overwhelming majority of builds in this game.
However, this will take the place of firearms!
As I said at the beginning of this piece, melees are far more difficult to regenerate than grenades for non-Hunter classes, and the Gambler's Dodge nerfs just took a (very, very, very little) hit to Hunters' ability to spam melee.
Close-range combat becomes less of a complete loss condition for the classes that should thrive at it as a result of this. It should still be a last choice in higher-end stuff, and it doesn't completely replace GMs' regular long-range gunplay for these classes. However, when used in combination with CQC alternatives rather than as a stand-alone option, they may swiftly change the tide of a terrible scenario due to their greater capabilities at these ranges, or provide some other significant advantage. Close-range options, particularly primary, have become more more powerful since melee has substantially reduced their TTK.
To have crowd control in your melee slot, you no longer need to run Revenant. When coupled with weapons like Witherhoard or Ticuu's Divination, explosive and burning knives have become powerful crowd control choices, mulching numerous weak adversaries in a single throw.
However, this will make melee builds much too powerful!
Motherfucker, that's exactly what melee builds. Show me a real endgame melee build that isn't either Wormgod + throwing hammers or basically just smoke bombs. Seriously. I'm constantly on the lookout for new jank to test, and due to double GM awards, I'm in a position to do so.
Show me a viable melee build with a gimmick that isn't simply just 'doing a lot of damage.' This category was characterized by throwing hammers, and the freshly enhanced Peregrine Greaves builds go into it as well. The only reason Howl of the Storm is any useful anymore is due of the crystal adjustments, which gave it a 60 percent damage increase. I'd want to see melee used for anything other than 'lmao champion oneshots' or 'lmao solo Riven, titan op plz boost.'
However, this is insufficient to make the X subclass feasible!
I'm not saying it will be self-contained. Yes, certain statistics need to be tweaked on a class-by-class basis. I'd want to see Knife Trick get a bonus similar to the Throwing Hammer. I want Warlocks to have access to any melee build that isn't simply a weaker version of what the Titans have. (How is it that Winter's Guile is still in the game?) This is a solution to a much more general and difficult problem: why utilize melee at all, let alone construct a game around it. We can start looking at specific situations after that's resolved, but we need a solid foundation to construct our home on. Our PUNCHING HOUSE. Yeah.
Conclusion
To be clear, this is not a demand for the nerfing of grenades, Demolitionist, or other perks. Personally, I'm not a big fan of the "buff, don't nerf" mentality, but I believe that grenade builds and many of the perks that accompany them are at a good power level. If modifications like Particle Deconstruction are going to be available every season, projects like this will need significantly more money for far less dramatic outcomes.
The three-second Duskfield build with Frostees comes the closest to a really degenerate grenade build I can think of, and that's not so much'stomping every other class' as it is 'probably the best Revenant build in the current meta.' It's possible that new factors may emerge that will completely demolish it. Perhaps the next Lost Sector exotic will completely alter the game. I can assure you that six Revenants will not be the World First raid comp come Witch Queen unless Bungie chooses to reset Radiant Dance Machines to its original condition.
Rather, I'd want to start a healthy conversation about what melee needs in order to be more viable in the endgame. I fuckin' love me some explosives, since Code of the Commander is my favorite class in the whole game. However, I like putting Champions on life support.
, and I pity melee mains that are unable to play their preferred class in challenging material.
It's never a pleasant experience to be informed that your favorite subcategory isn't feasible. Yes, GM/contest mode content should have real gameplay distinctions, but it's a pity to have all these perfectly competent melee subclasses in the game and be unable to use them in serious play. I don't mind that they're a high-risk game, but Bungie seems to have forgotten the second part of the phrase: high reward.
Melees in Prestige Content, Please?
While I perform a lot of high-end PvE stuff, the majority of my experience is in GM Nightfalls, and I was the pumpkin spice and Starbucks Shadebinder in my fireteams until very recently. I'm sure it's no secret that Warlock melee builds are as uncommon as a steak barbecued on a Canadian sidewalk, so I'll confess that this is a major blindspot for me.
If you're a player that uses melee builds in endgame content, I'd love to hear your ideas on buildcraft and what melee builds need to be successful. Is it merely a matter of direct damage? Is it possible to have more utility? Something really unique? Let your voice be heard.
Future Changes, Dear Developers?
To be clear, this is not a bait-and-switch inquiry or, God forbid, a request to include my design suggestions into the game. Even with a 2-for-2 strike rate on Bungie responses to my postings, it's a stretch to believe the programmers are even reading this.
At the same time, the Season of the Lost and the 30th Anniversary boosts to numerous combat-centric classes make it appear like melee is a subject that's been on Bungie's mind. With the introduction of Void 3.0, I know myself and the rest of my clan's Titans are still going insane at the unveiling of a really functional Void melee.
With all of the recent interesting fist-based improvements, I'm sure the community would be very interested in hearing what the sandbox team has to say about this area of the golden triangle. TWAB's ability rework piqued my interest in Destiny in a level I hadn't felt in a long time, and it's always intriguing to hear from the people who have their hands on the levers. I can discuss design all I want, but let's be honest: without feedback from the developers, it's all a waste of time.
Are you looking for PC games to play? Here are all of the new PC games to keep an eye on in 2021.
The pace of PlayStation 4 game releases isn't going to slow down in 2021. Here's everything to look forward to in the coming months.
Watch This Video-
"Why do I melee when shooting warzone" is a question that has been asked many times. The answer is simple: you don't. If you want to shoot, just unbind your melee in the settings menu of the game. Reference: why do i melee when shooting warzone.
Related Tags
how to turn off auto melee modern warfare
how to turn off auto melee warzone
how to unbind charged melee destiny 2
disable r3 xbox one controller
how to disable right analog stick ps4